When you see a magazine photo or a postcard of Roatan, usually what you're looking at is a shot of West Bay Beach. One of the most stunning Caribbean beaches is paired with plenty of large resorts to create a fun atmosphere where lots of people are out and enjoying everything the beach has to offer.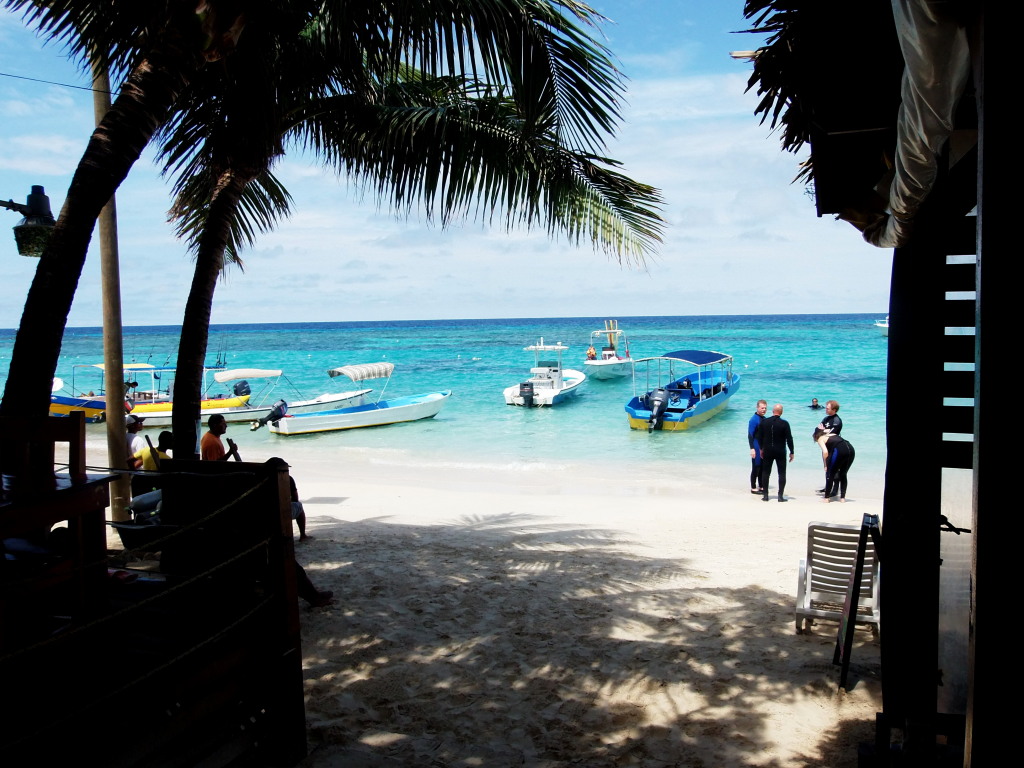 Although it is a fairly short stretch of beach (you can walk end-to-end in about 5 minutes), there is plenty to do at West Bay Beach.
Maybe you'd like to try stand-up paddleboarding? The coral reef that fringes the island provides a natural barrier between the beach and the reef, so unless there is high wind or a storm, the sea is usually very calm inside the reef, perfect for SUP.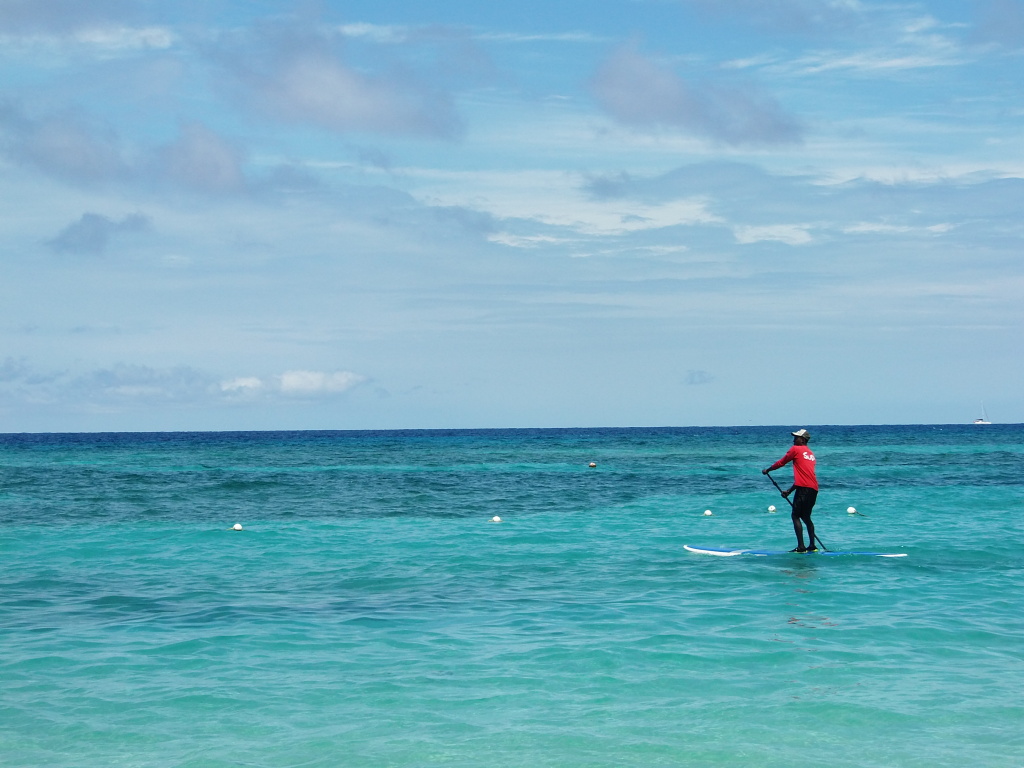 If you have kids with you, it's pretty much guaranteed that they'll be begging to go off the giant inflatable slide and floating trampoline – it's a blast for all ages so get on there with them!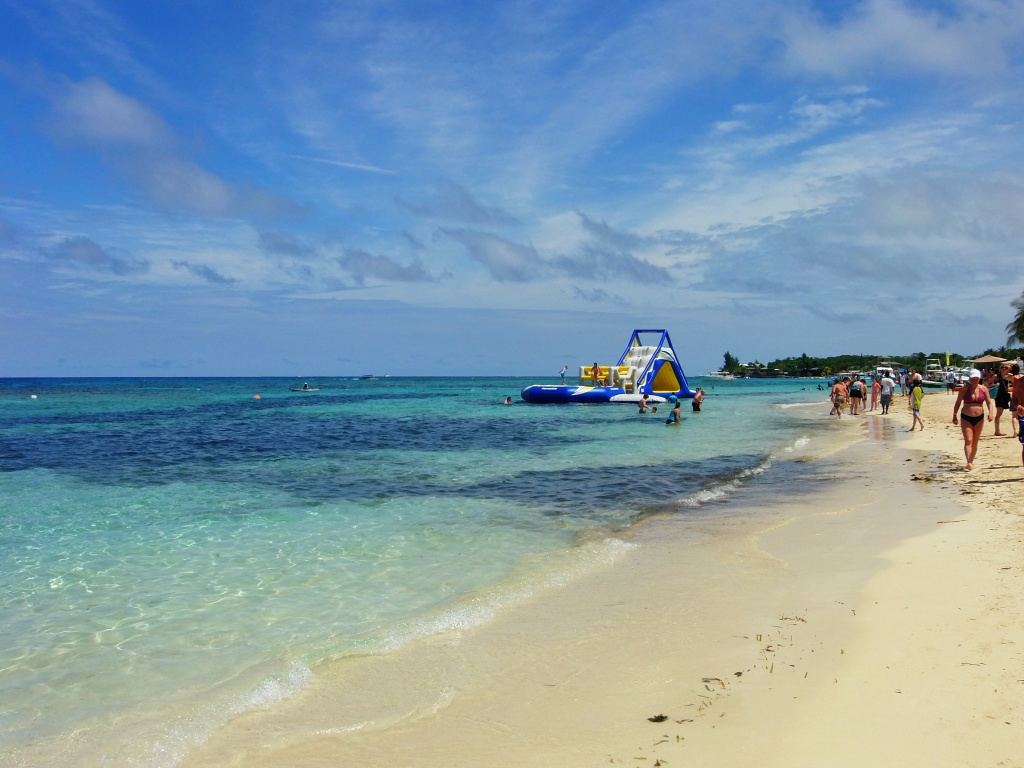 If you like to snorkel, I've got good news – there is amazing snorkeling right off the beach here. Head to the far west side of the beach (to the left if you're facing the ocean) and swim out near the rock pictured below. NOTE: watch for boat traffic anywhere you are snorkeling in West Bay and use high-visibility fins and snorkels.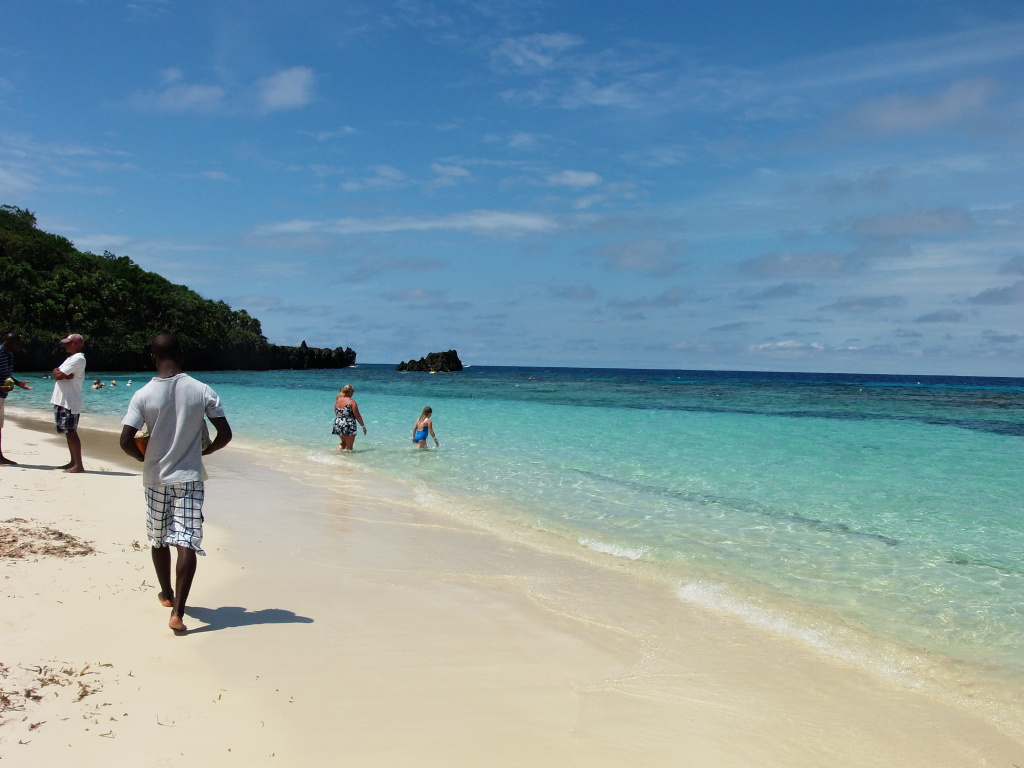 For all the scuba divers, there are tons of dive shops in West Bay that will take you out to dive sites in the Roatan Marine Park – some of them right in front of the beach! One of the quirks of West Bay Beach that there are very few docks, so you may see some of the dive boats coming in to a very busy dock like this…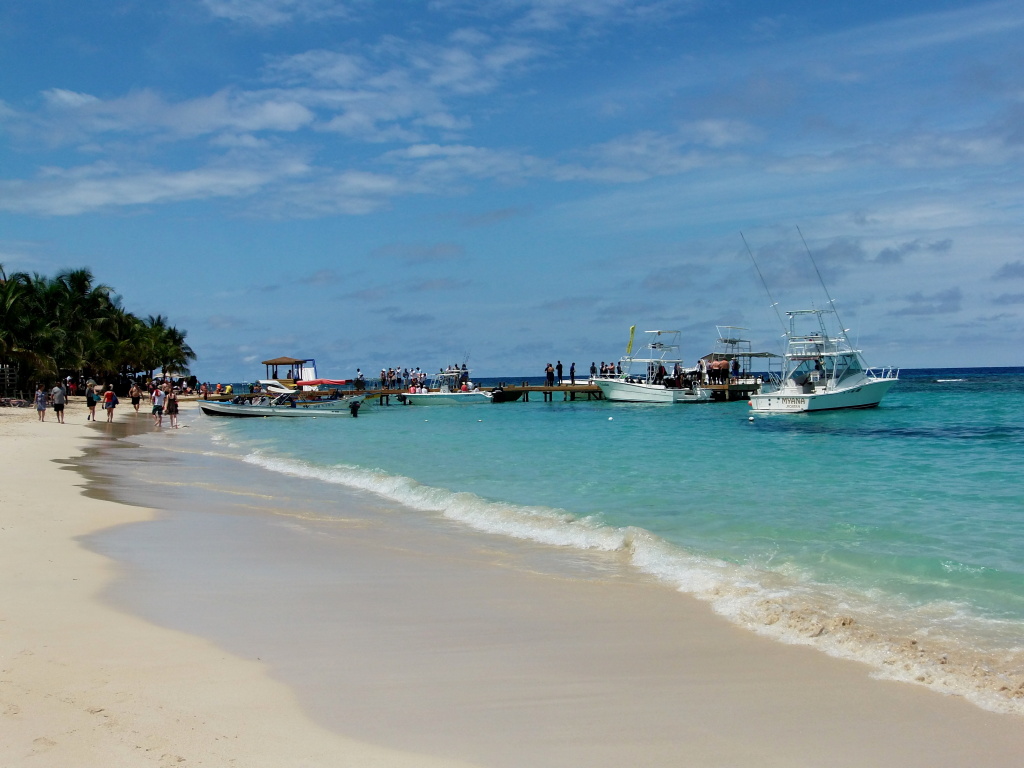 …while other dive shops forego the dock entirely and load/unload right on the beach: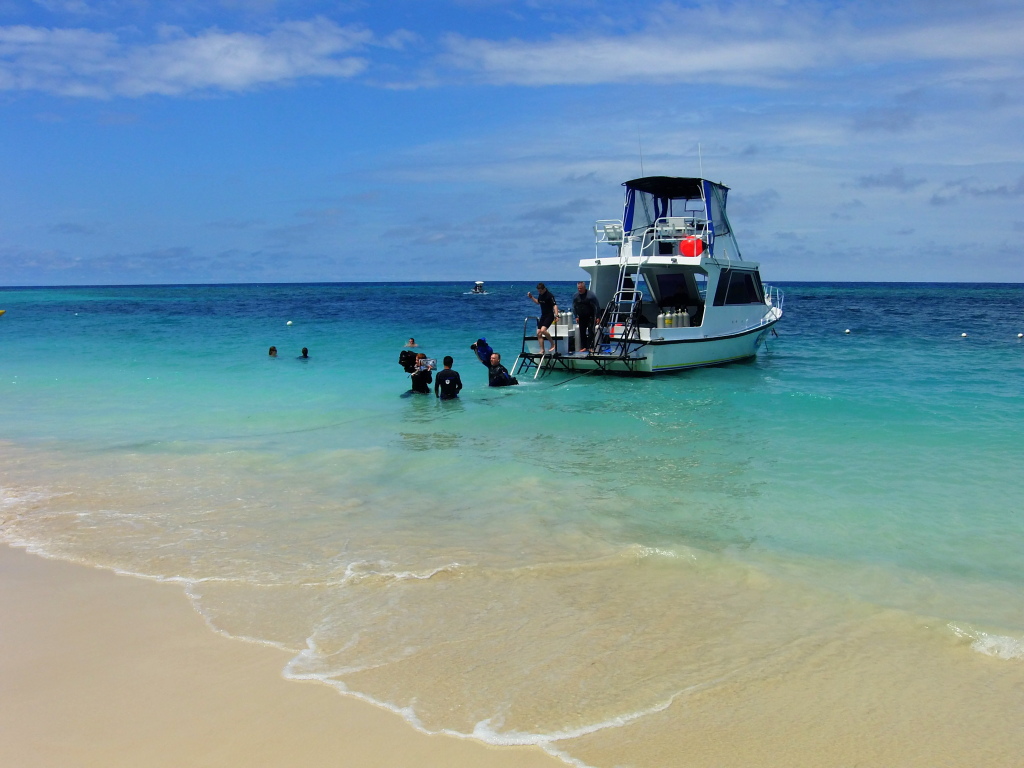 West Bay Beach is also an interesting place to relax on a chair with a cold drink and people-watch. There are usually lots of tourists walking around, especially on cruise ship days.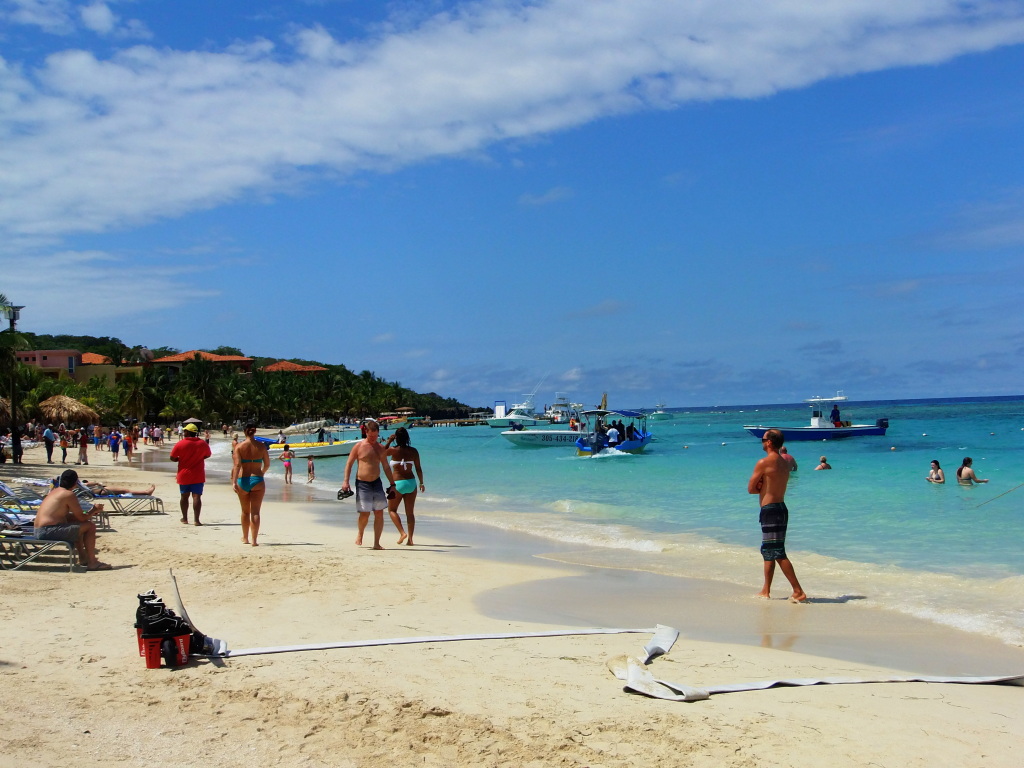 (If you're feeling really brave, there is a flyboard operator at West Bay Beach… you can see part of the setup in the photo above!)
Sometimes the best part of West Bay Beach is just enjoying the clear turquoise waters of the Caribbean and doing nothing at all…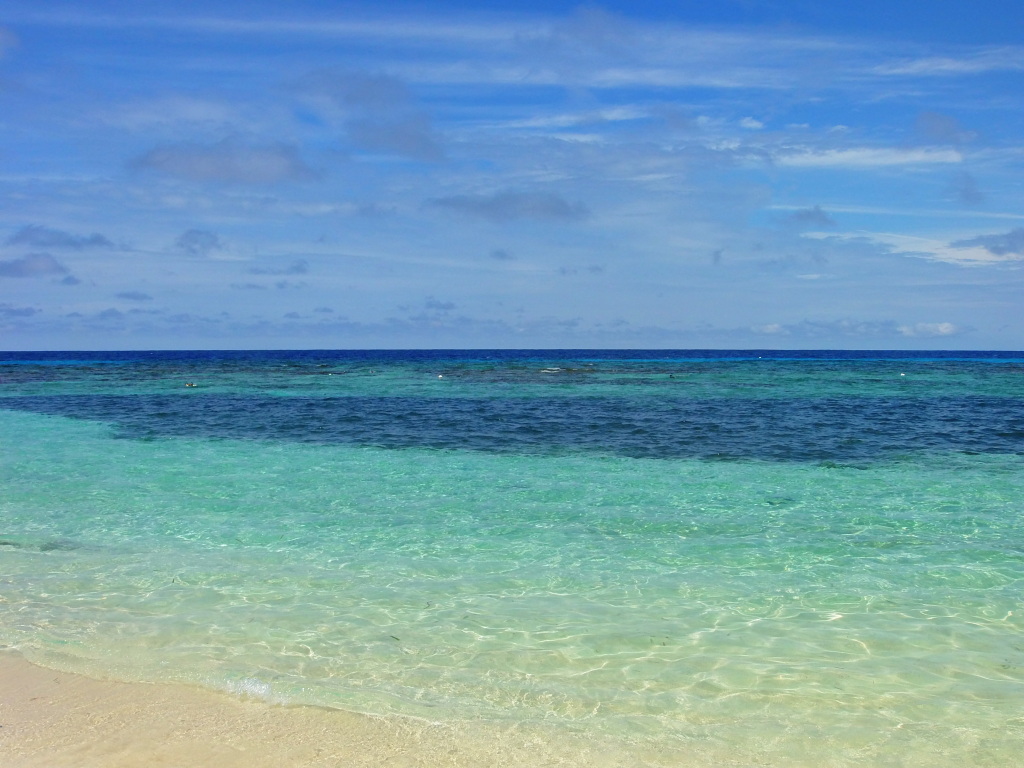 – rika