As you glide through the water, concentrating on making perfect frog kicks and using your lungs to keep yourself at just the right place in the water column, you peek around a corner and look for colorful nudibranchs on the swaying soft coral. Right as you're about to signal to your buddy that you've spotted a flamingo tongue, a huge flash of grey rips by your eyes at a thousand miles an hour and you are suddenly face to face with five rows of massive razor sharp teeth coming straight at your neck while you scream in your regulator…
Sorry, nope.
That's not how shark encounters in Roatan are at all.
(Did you really think we'd take people down there for a Jaws-style carnage?)
While lucky divers occasionally spot nurse sharks, hammerheads and blacktip sharks cruising by while the divers are out and about exploring the dive sites on Roatan's vibrant coral reefs, most who want to make sure they see a shark head to Waihuka Adventure Divers, who run Roatan's infamous 'shark dive'.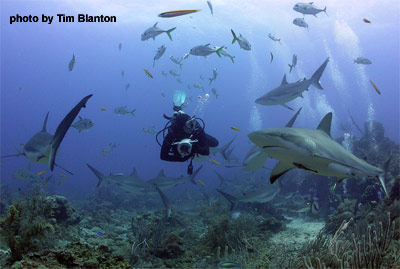 Waihuka has control over the 'Cara a Cara' (meaning 'face-to-face') dive site where the shark dives are conducted three times a day every day except Sundays. This means the other dive shops are not allowed at this site, to make sure only those trained for the shark dive are going there. The guys at Waihuka have been running the shark dive for years and have an impeccable safety record for their guests. They do not take direct bookings from divers, so anyone wishing to do the shark dive has to book through a dive shop. Many shops will require that you do 1-2 dives with the shop first so they can assess your air consumption and basic diving skills, as the divemaster on the shark dive is there to keep divers safe and put on a show – they are not there to assist inexperienced divers during the dive, divers are responsible for themselves. The dive lasts around 30ish minutes and is conducted around 70ft so divers need to be capable of making that bottom time, as well as descending and ascending safely with their buddy.
Once at the bottom, divers kneel in front of a coral head that protects them from the current. The female Caribbean reef sharks show up when they hear the boat – they get fed here three times a day and have been coming for years so they know the drill! The divemaster will open a chum bucket and you'll see a crazy feeding frenzy happening for a few minutes. A few of them are known to get the chum bucket stuck on their head, which will make you giggle and forget you're kneeling in front of anywhere from six to sixteen big sharks!
After they eat, you'll see the resident grouper and green moray eel come out and scrounge for leftovers. If the sharks are in a good mood, the divemaster will let you know that you can get up and swim slowly around the area with the sharks. They'll glide alongside you, eyeing you sideways until they get a real good look, and then dart off. You might recognize some of the favorites… see the one with the scar up the side of her mouth? She's Joker, named after the Batman character. Watching these powerful creatures just a few feet from you is amazing, and afterward you'll make sure to tell all your friends how sharks are not the insane people-eaters the media makes them out to be. Better yet, buy the DVD that they sell at the end of the dive to show your friends themselves. What? You were so entranced with the sharks that didn't notice the videographer on the dive getting your shark interactions on camera? I didn't the first time either 🙂
– rika